Better Planning Network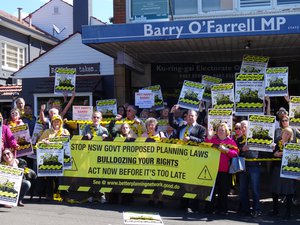 The Better Planning Network (BPN) is a volunteer-based organisation founded in August 2012 by community groups concerned about the NSW Government's planning reforms.
On 28 November 2013, the then NSW Minister for Planning and Infrastructure Brad Hazzard withdrew his Planning Bills due to heavy Upper House amendments made to these Bills by the Labor, Greens and Shooters and Fishers parties. Since then, no further announcement on the NSW Planning Bills has been made. However, on 22 April 2014, the NSW planning portfolio changed hands, with the appointment of The Hon. Mike Baird, MP, as Premier of NSW. The Hon. Pru Goward, MP, is now Minister for Planning and the Hon. Rob Stokes, MP, is Minister for the Environment, Minister for Heritage and Assistant Minister for Planning.
The BPN is campaigning for a visionary planning system that fosters environmental and social sustainability with best planning design outcomes. As such, the BPN is a signatory to Planning for People: A Community Charter for Good Planning in NSW.
Other signatories to the Charter include the National Trust of Australia (NSW), the Nature Conservation Council of NSW, the Total Environment Centre, the Inner Sydney Regional Council for Social Development, Australia International Council for Monuments and Sites, Our Land Our Water Our Future and the National Parks Association of NSW.
We encourage you to read the 2 page Charter and endorse it as an individual and/or group here .
Together, we are stronger.
Fund the Better Planning Network in 2014
Together, we have succeeded in stalling the NSW Planning Bills. BUT the fight is far from over! Not only do we need to continue to fight so that the Bills do not become law in 2014, we must also ensure that an alternative is developed and becomes law so that planning and development in NSW finally moves into the 21st century.
Unfortunately, developer lobbies have the financial resources to keep pushing to get their way – but we don't. That's why we're asking you to dig deep and contribute to the 2014 fighting fund. We can't stop these laws without your help.
You can donate via PayPal by filling in the details below.
If you would prefer to pay via EFT: Better Planning Network Bank: Westpac BSB: 032045 A/C: 103472. If you can only send a cheque, please make it payable to the Better Planning Network, and mail it to PO Box 989, Lane Cove NSW 1595. Please note that donations are not tax-deductible at this point in time.