Better Planning Network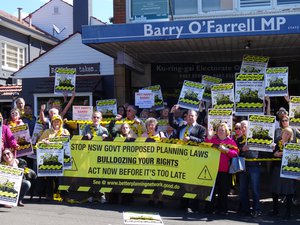 Change of Website:
The main website for BPN is at www.betterplanningnetwork.org.au.
Donations to the Better Planning Network are now taken through the new site. The direct link to donate is www.betterplanningnetwork.org.au/donate
This site will now be the campaign web site for the Better Planning Network and will change over time as required for email campaigns. In the short term all historical information on this site has been retained both here as well as transferred to the new site.
If you are linking to any material on this site please link instead to the new site.
Thank You
About the Better Planning Network
The Better Planning Network (BPN) is a volunteer-based organisation. Founded in 2012 in response to the NSW government's controversial planning reforms, today we have more than 470 affiliate groups across NSW.

Our aim is for robust and visionary planning system for NSW - one that fosters best practice environmental, heritage, social sustainability and design outcomes.

Together, we succeeded in stalling the Planning Bills in 2013. However, the State Government is now using the backdoor to push through some of the controversial changes. This effectively bypasses the Parliamentary process.

In response, the Planning for People Charter A Community Charter for Good Planning in NSW was developed by a coalition of community and environmental peak bodies. This includes Better Planning Network, the National Trust of Australia (NSW), the Nature Conservation Council of NSW, the Total Environment Centre, the Inner Sydney Regional Council for Social Development, Australia International Council for Monuments and Sites, Our Land Our Water Our Future and the National Parks Association of NSW.

Following the appointment of Rob Stokes as the new Minister for Planning in 2015, our aim is make sure best practice planning is achieved through collaborative and authentic community engagement process.
+
Help fund Better Planning Network in 2015
To rely on the generosity of supporters to fund campaigns. Help us continue the fight in 2015 by making a donation.

The best way to do this, is to make a donation using EFT: Better Planning Network Bank: Westpac BSB: 032-045 A/C: 103472.
Alternately, you can send a cheque payable to the Better Planning Network. Post to PO Box 137, Strawberry Hills NSW 2012.
Or donate online using PayPal – please complete the details below.