Better Planning Network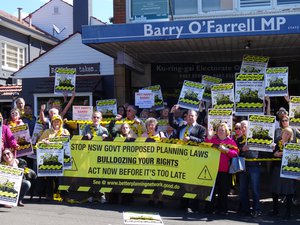 The Better Planning Network (BPN) is a volunteer-based organisation. Founded in 2012 in response to the NSW government's controversial planning reforms, today we have more than 470 affiliate groups across NSW.

Our aim is for robust and visionary planning system for NSW - one that fosters best practice environmental, heritage, social sustainability and design outcomes.

Together, we succeeded in stalling the Planning Bills in 2013. However, the new Minister for Planning is now using the backdoor to push through some of the controversial changes. This effectively bypasses the Parliamentary process.

In response, the Planning for People Charter A Community Charter for Good Planning in NSW was developed by a working group. This includes Better Planning Network, the National Trust of Australia (NSW), the Nature Conservation Council of NSW, the Total Environment Centre, the Inner Sydney Regional Council for Social Development, Australia International Council for Monuments and Sites, Our Land Our Water Our Future and the National Parks Association of NSW.

In the lead up to State election in March 2015, we invite you to read the Charter and endorse it here. Together, we can make a difference.
Help fund Better Planning Network in 2015
While developer lobbies have the financial resources to keep pushing to get their way - we don't.

Help us continue the fight in 2015 by making a donation.

You can do this by donating online via PayPal – please complete the details below.

Alternately, make a donation using EFT: Better Planning Network Bank: Westpac BSB: 032-045 A/C: 103472.

Or send a cheque payable to the Better Planning Network. Post to PO Box 137, Strawberry Hills NSW 2012. Please note that donations are not tax-deductible at this point in time.