Better Planning Network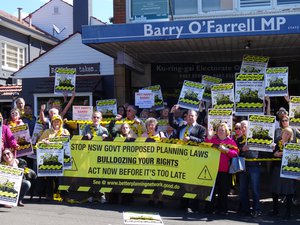 The Better Planning Network (BPN) is a volunteer-based organisation founded in August 2012 by community groups concerned about the NSW Government's planning reforms.
On 28 November 2013, the then NSW Minister for Planning and Infrastructure Brad Hazzard withdrew his Planning Bills due to heavy Upper House amendments made to these Bills by the Labor, Greens and Shooters and Fishers parties. Since then, no further announcement on the NSW Planning Bills has been made. However, on 22 April 2014, the NSW planning portfolio changed hands, with the appointment of The Hon. Mike Baird, MP, as Premier of NSW. The Hon. Pru Goward, MP, is now Minister for Planning and the Hon. Rob Stokes, MP, is Minister for the Environment, Minister for Heritage and Assistant Minister for Planning.
The BPN is campaigning for a visionary planning system that fosters environmental and social sustainability with best planning design outcomes.
To do this, we welcome your contribution.
Email Minister Goward and Minister Stokes
The appointment of Minister Goward and Minister Stokes is an opportunity for a fresh start for planning in NSW. Right now, you can help by writing to the new Ministers.
We have prepared a sample email below. You can use our email, alter it or create one of your own. By altering the email to reflect your personal views your message will be more effective.
To send your message to Minister Goward and Minister Stokes, simply click on 'Send My Email' at the bottom of this page.
Our Goal: 300 Emails sent